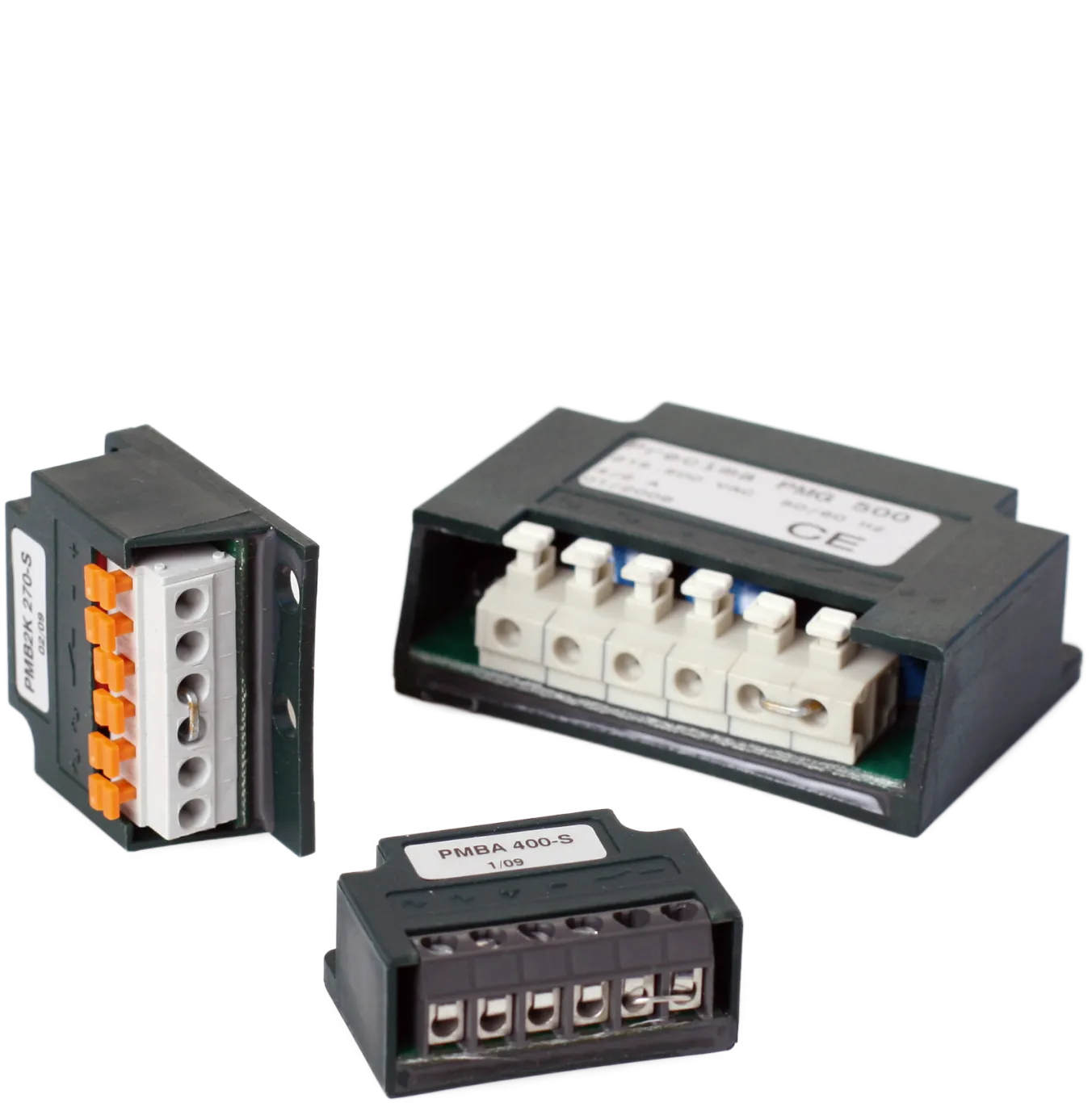 PMB, PME, PMEA, PMG
Half- wave and bridge rectifiers
PMB = Bridge Rectifier
PME = Half-Wave Rectifier
PMEA = Half- Wave Rectifier with protection against overvoltage
PMG = Fast Response Rectifier
These compactmodules have been aspecially designed to be fitted into the terminal boxes of electric-motors.
The PME half wave rectifier which halves the supply voltage is the most cost effective.
The PMB full wave bridge rectifier produces a smooth DC voltage (95% of the supply voltage).
Both rectifiers are available for switching on AC or DC side.
Varistors in the input and output protect the rectifiers from surge voltage.
The PMG fast excitation rectifieris recommended whenever short release times or low dissipation is required. It combines the benefits of the half wave and bridge rectifiers.
Rectifier selection
Transformer rectifier
Down-transformed voltages are not problematic. Robust coils, small inductances result in short switching times.
Half-wave and bridge rectifiers
These compact components are particularly suitable for use on electric motors due to their installation in the terminal box. The half-wave rectifier halves the required coil voltage and is
is more cost-effective. The bridge rectifier generates an optimum DC voltage. Both types of rectifiers are available for AC or DC switching. The rectifiers are protected against overvoltage by varistors in the input and output.
Fast switching rectifier PMG
This rectifier is recommended when short release times or low power losses are required. It combines the advantages of the half-wave and bridge rectifier.
Current sensing relay PMS
The PRECIMA current sensing relays are used to switch the spring-applied brake on the DC side in the absence of a neutral conductor to the motor.
Documentation & Downloads
Further Documents
You can access additional documents with a customer login for our service portal.